We are sorry to announce that LP 2020 will not be taking place this April due to the coronavirus situation. We would like to hold the conference later this year if possible. Please follow us online to get updates.
Stay healthy!
Linguistics Prague 2020
Important dates
Abstract submission start
17 October 2019
Abstract submission deadline
12 January 2020
26 January 2020
Notification of acceptance
28 February 2020
Conference
23 April - 25 April 2020
LinguistList
Thursday 23 April - Saturday 25 April 2020 | Faculty of Arts | Charles University
Abstract submission deadline has been extended to 26 January
Linguistics Prague is a conference aimed at graduate students of linguistics and related fields. Successfully running since 2013, the conference will be opened to international audience for the fourth time in 2020 with English as the language of the conference. Having become a well established event in Czech academia, the conference is now set to welcome international researchers to improve the diversity and quality of the contributions even further. The conference aims at young researchers to provide them with a platform for the presentation and discussion of research with their peers.
The focus/leitmotif of the conference is empirical research of language and its methodology. We encourage presentations of original data oriented research concerned with different aspects of language structure and use, as well as discussions of methodological groundings of the 'empirical turn' in linguistics.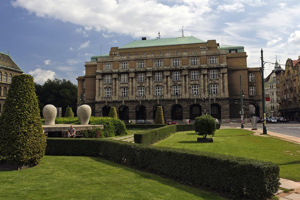 The event will consist of 2 plenary talks, two tutorial workshops, and a general session for oral presentations and posters.
The conference takes place at the Faculty of Arts of Charles University in the very center of Prague, which will provide participants with all the necessary comfort. There will be an informal get-together on Wednesday on the evening before the conference opening, i.e. on April 22.